SEGGER's 25th Anniversary Video
Chances are you will find this video more interesting to watch if you take five minutes to first read the story of the week I spent at SEGGER's headquarters at the end of June.
The video is only a little more than 2 minutes long. If you decide to watch it, make sure to go full screen and I would really love to read your thoughts about it in the comments down bellow. Do you think a video like this succeeds in making the viewer want to learn more about the company? And if you like it, a thumbsup on Youtube would certainly be appreciated.
If you've watched the other videos I've produced so far from trade shows, I think you will agree that the production value is going up.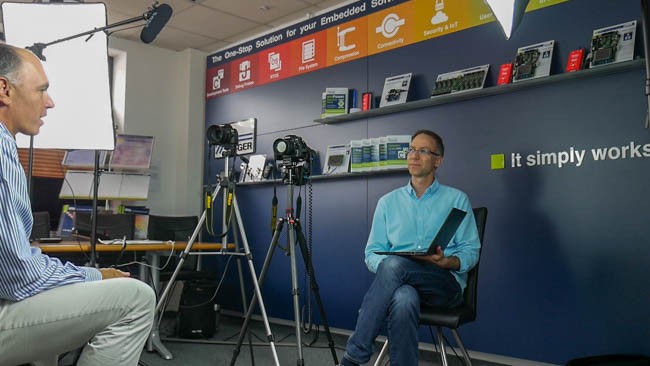 The main reason here is the use of softbox lights and two cameras. The two cameras allowed me to have a tight shot and a wider shot; very useful to do seamless cuts. And I love the tight shot, it really shows the emotions of the person talking, do you agree?

What will be the next video adventure? I would love to cover the launch of a new product with interviews of the key people who were involved in making it. Or maybe a company where the engineers are especially happy and well treated. Let me know if you have ideas.
Thanks for reading & watching!
---
[ - ]
Comment by
●
September 17, 2017

That was very nice - I have used Segger probes in several projects and just assumed it was a lot larger company.  It really drives home that products don't happen without the people making it happen.  I thought it came across quite well.  
Dr. mike

[ - ]
Comment by
●
September 18, 2017

Thanks a lot Mike for taking the time to comment.  I love witnessing (and reporting) the human side of things.  Looking forward to the next opportunity.  Take care Mike!
To post reply to a comment, click on the 'reply' button attached to each comment. To post a new comment (not a reply to a comment) check out the 'Write a Comment' tab at the top of the comments.
Please login (on the right) if you already have an account on this platform.
Otherwise, please use this form to register (free) an join one of the largest online community for Electrical/Embedded/DSP/FPGA/ML engineers: